Now Offering
High Tech State
of the Art
Manufacturing
At A Unique
Location
DON'T WAIT!
BE THE FIRST TO RECEIVE THE LATEST
UPDATES AND INFORMATION
Contact Us
DETROIT
MICHIGAN
Welcome to Gateway Industrial Center, a HIGH TECH STATE OF THE ART MANUFACTURING Center located in Detroit, Michigan.
This new development will include 421,000 SF and over 60 truck dock doors. New ownership redeveloping entire campus has experienced property management team focused on client satisfaction.
Gateway Industrial Center will feature:
62 Truck Docks
Located on an Industrial Railroad Spur
ESFR Sprinkler [System, Heads Available]
High Capacity Electric & Natural Gas Services
Up to 36' Minimum Clear Height
50' x 50' Column Spacing
Excellent I-96 Access
Distinct Pedestrian and Truck Vehicle Traffic
Bright, Efficient LED Lighting
New, Automated Security Gates
24/7 Automated Security System
Up to 8" Reinforced Concrete Floors
70 Trailer Parking
340 Automobile Parking
Request Information
Located within the City of Detroit, easy access to all major freeways and Canada.
Gateway Industrial Center is located in Detroit, Michigan – the second-largest regional economy in the Midwest, and is the center of the U.S automobile industry. Ideally positioned on the corner of I-96 and Southfield Freeway with easy access to Canada, Chicago, and Flint, Gateway is the perfect home for your growing business.
Custom design-build solutions for tenant build outs
Residential neighborhoods within walking distance
12601 Southfield Fwy
Detroit, MI 48223
Location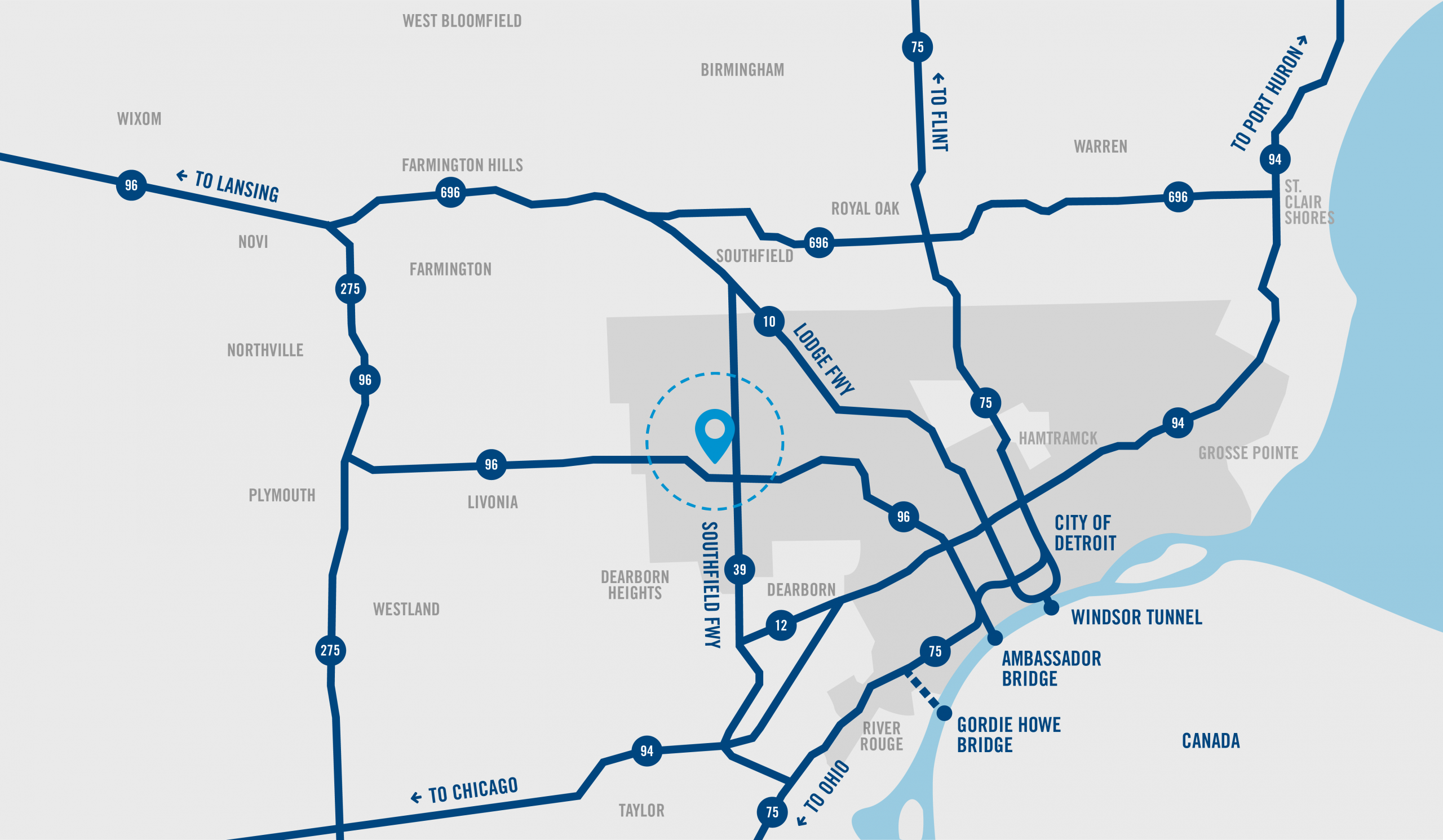 Map Key
Detroit Proper
GATEWAY
INDUSTRIAL
CENTER
New automated security gates provide for increased efficiency and shipment tracking.